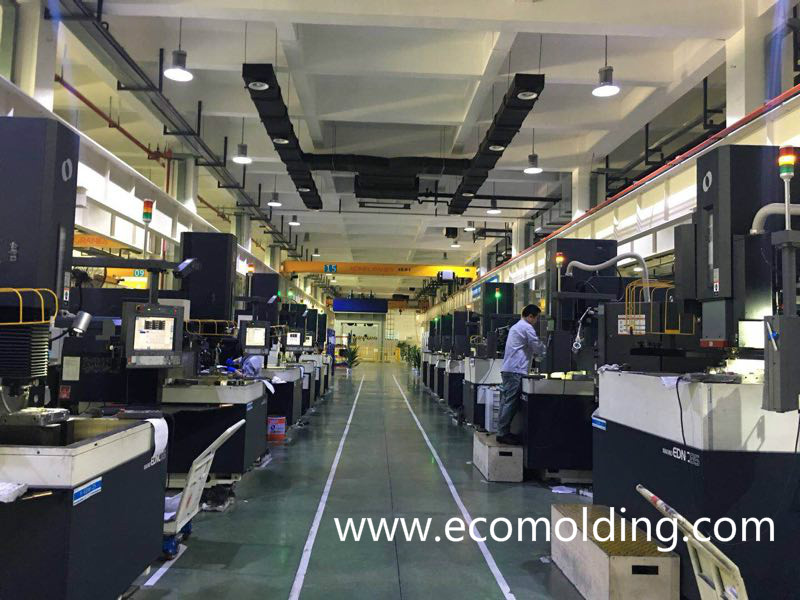 I've had the opportunity to work in collaboration with injection mold companies from China for more than a decade. They are able to produce an extensive scope of tools, from the low-end molds that feature alignment pins made from repurposed screwdriver bits to the $100,000 worth of finely crafted, premium quality ones. As a matter of fact, it is not difficult to find a tool company – if you ever have a chance to visit a specialized industrial park in Dongguan in central Guangdong Province, China, you can find no less than 20 of them in it. However, finding a mold company that actually offers great quality mold products at a fair enough price is not easy at all. So, I have to work with a middleman, an excellent part designer who is, in fact, a representative for several factories. You may be able to find a good mold factory in some other ways, but it works fine for me.
Or, if you have enough budget and time, you can choose to go to the trade show and talk to them in person. Otherwise, it will be a better choice if you look for injection mold companies online and select those who claim that they are ISO9001 certified. It usually takes more than 10 years for a company to demonstrate the capability and experience necessary for mold design and production. And, if you would like to have a look at any references, they should have them ready for you. You can also search online to see if they have any shipment to the USA by referring to the customs data available online. The search result I got is that the mold company I partner with had 19 shipments to our country over the past year.
To audit, a molding supplier, the company of a great size and capability would usually conduct an onsite visit to it by sending a representative, during which, we may ask them to finish a questionnaire, check compliance level against local laws & regulations, bank account, and credit, etc. In addition, we would like to reach a non-disclosure agreement and a waiver with the mold company, making it defined that their rights to the designs they have created by working with you will be waived. This is a very important step if you want to protect your own IP. My employer once got into a difficult situation where the mold company made an improvement to one of our designs, but later they refused to sign away their rights to the patent we wanted. During the onsite visit, I don't suggest you focus on an old building, though it is, in fact, a very strong point. Within their factory buildings, they should possess a diversity of presses to perform mold trials, as well as presses equipped with dryers, modern CNC, EDM, and CMM equipment, etc., along with a gallery of products they have molded, of which they are very proud. Last but not the least, they should observe rules and regulations, be it safety or environment-related, and they should not have doors padlocked or anything like that.
When required, they should readily provide a list of their suppliers for you, including that of the mold base, the mold steel, as well as such components as hot sprues and textures, etc. It is preferred to find the mold companies which employ the steel and DME components imported from Sweden or Germany but are also able to offer the Chinese equivalents at a more favorable price. The China-made steel can fulfill the purpose just right when it is applied in proper circumstances. They'd better employ an in-house mold designer who can not only perform mold design but also offer assistance to your part design. This is of critical importance! They should keep their software up to date. A lower end mold company tends to use pirated software, design the mold or do the CAD and CAM work under a shell company, sell molds through another company, or frequently change its name, etc.
After they have passed the above-mentioned steps, it is time you reviewed their communication. Can their representative speak and write good enough English, while also understanding plastic injection molding? Quite often, the coordinator knows little about injection molding, which makes things a lot harder for us. Likewise, the mold company should also ask questions about you, e.g., what kind of presses, procedures, and requirements do you have in your facility? A great mold supplier doesn't assume anything, but keep every conceivable detail covered. They will refuse to make a bad mold by selecting the wrong steel, the wrong gate design and so on, no matter how hard you persuade them. When giving the quotation, they should include the following contents:
Price, lead time, shot size, number of cavities, mold dimensions, steel specs (especially steel hardness) and supplier for each mold component, estimated cycle time, sprue/gating type and manufacturer (if it is applicable), surface finish/texture specs, required press tonnage, etc. and payment terms.
If it is a good mold company, it will agree to a min. expected mold service life, while offering a guarantee when any problem occurs. You will also notice in their quotation that it takes them a long time for them to machine the mold for you when compared with the cheaper mold companies because it is easier to machine the cheap steel. Attention: Be careful about the 28-day lead time, which is what you can find in the quotation offered by the low-quality junk mold manufacturers. A large mold company usually selects higher hardness steel, so it takes them no less than a solid 6–8-week lead time from placing an order to the production of the T1 sample. Also, remember never pay more than half upfront, and never pay the rest of the sum until you have received an approvable good mold. You also need to know how to pack, crate and move the mold to the port before shipping it to America. To prevent the mold from rusting in the high humidity container (waterborne transport), they are usually sprayed with protectant.
At this point in time, if you are interested in ordering the mold, it will be a standard procedure for them to require a PO (purchase order) before starting to assist you with DFM (design for manufacturing). If you are not yet ready to place an order, it is reasonable if they ask you for a design fee, but you can demand a waiver of the design fee if you are going to buy the mold. You also need to fine-tune your mold to obtain the best part, for which you have to rely on the mold company if you don't have a Plastic Engineer with Moldflow software in your company. This is what makes the best mold companies stand out from the rest. A qualified Tooling Engineer is able to thoroughly analyze the wall thickness, the draft angle, and the gate design, etc., so as to save material, minimize warping or other defects, and reduce the cycle time, while finding innovative approaches to handle undercuts, so they are worth an extra cost up front. One of the bad mold companies I have worked with just took the design I sent them and added draft angles. That's all that they do! And, also claimed that they couldn't handle an undercut situation, but after you gave them certain pressure, they suddenly figured it out. Often, a bad tool company will agree to all your terms and conditions, but later after you have placed the order, they just take liberties on their own. There are also injection mold companies who would send me obviously defective drawings for me to approve, including such issues as missing draft angles, and unmoldable areas. Rapid prototyping represents a more recent development in China. If you need it, the mold company should have a partnership with such a prototyper, too.
Revised 3D drawings of your product, as well as that of the mold you are going to buy, should be provided by the mold supplier, in case you need them later for repair or re-texturing. If a mold company refuses to provide that, you can take that as a big red flag. What actually happens is that though a cheaper mold company puts effort into the quotation, it is not able to get the business, so it is reluctant to give you the drawings until you pay them. From my experience, another thing that might also happen is that they take your mold to produce products for another company.
After the sample is approved, the injection mold companies should give you the optimal press parameters, so as to help you get the ideal product. A good injection mold company will also offer you such spare parts as the lifter, the EDM electrode and the like so that you will not get frustrated if any of them fails.
Last but not the least, learn some Chinese business culture for yourself. It is their business culture to never say "No" to the other party and always promise that you are capable of doing something because it is deemed a humiliation if they cannot do something. So, they either quote you an excessively high price, hoping you say no or quote a very low RFQ price, then greedily charge you many small amounts for such items as minor changes and other additional fees. Therefore, it is better you learn to identify these tactics as early as possible.
Please feel free to contact us if you are looking for a professional injection mold company